Beyond the Bagels
A day at SteamRoller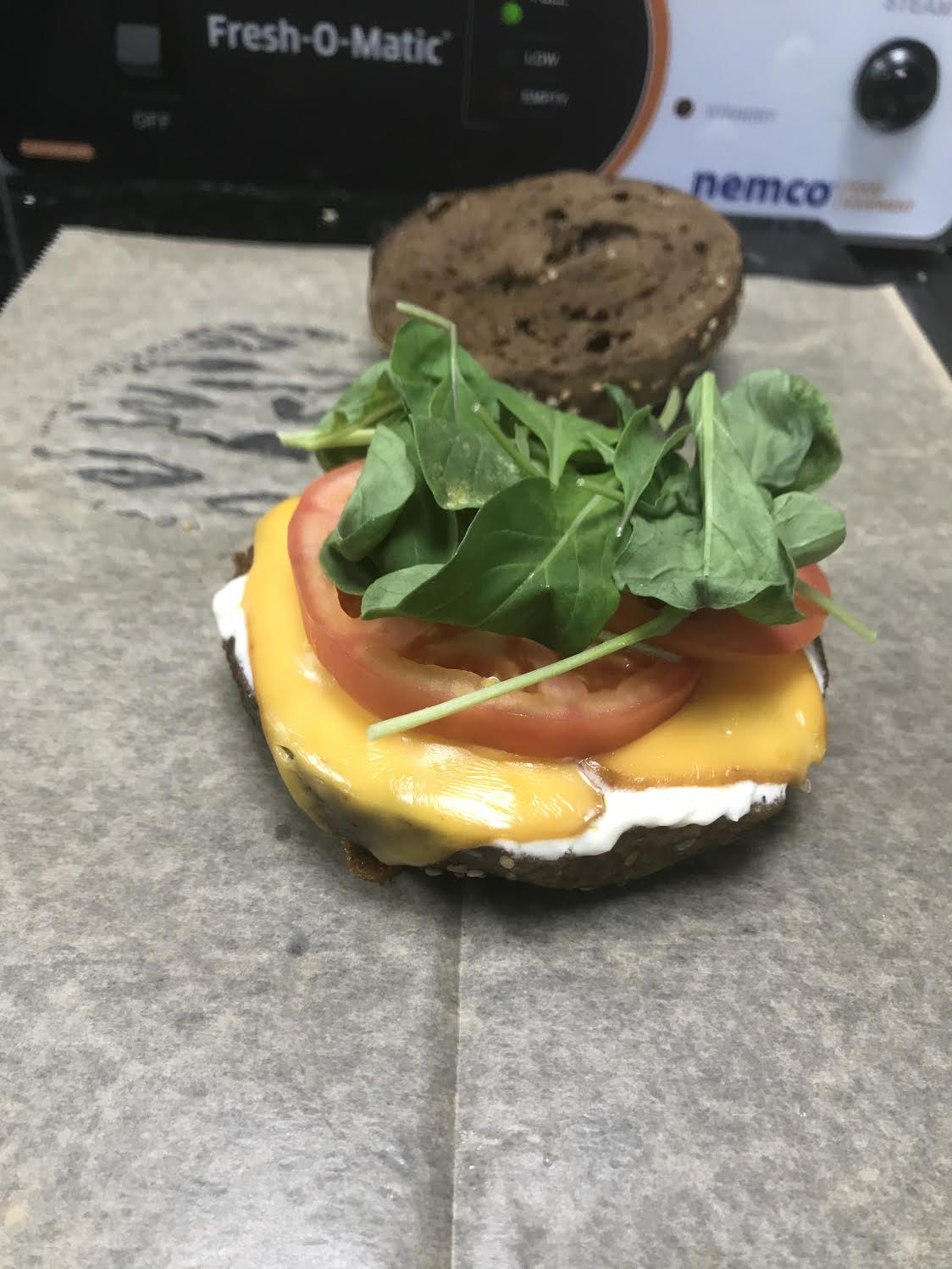 In a small college town in Ohio, there stands a narrow historic building that was once an insurance office, a video store, a deli, and a travel agency. Someone swore it was a barber shop. Now, it is the home of SteamRoller, known for its unique bagel sandwiches. Travis and Shane met as college roommates. They are two of the many who make the place run smoothly. 
Travis has a beard and a crinkly-eyed smile. His politeness may, at first, overshadow his hilariously cynical sense of humor. A 2013 graduate of Denison University, he has been working at Steamroller for several years. He welcomes me into the restaurant and gets to work. As of now, he is the only one working, but soon Shane will arrive. 
 Travis starts taking eggs out of their packages, then cracks them into circular molds, one after the next. He stirs each one to blend the yolk with the whites. Travis was a film major. "I still do some small editing projects." He cracks another egg. 
There are three heating compressors. Three bagels fit into each compressor. On days when they get a lot of business, this isn't adequate; but it's a small space and they make do. The restaurant will have been in this location for three years in January. They've made a home out of the place with their regular employees: Travis, Shane, Jay, and Traci. Travis is describing each long-time worker when someone approaches the counter to make an order. He stops mid-sentence and turns to the customer. "What can I get for ya?"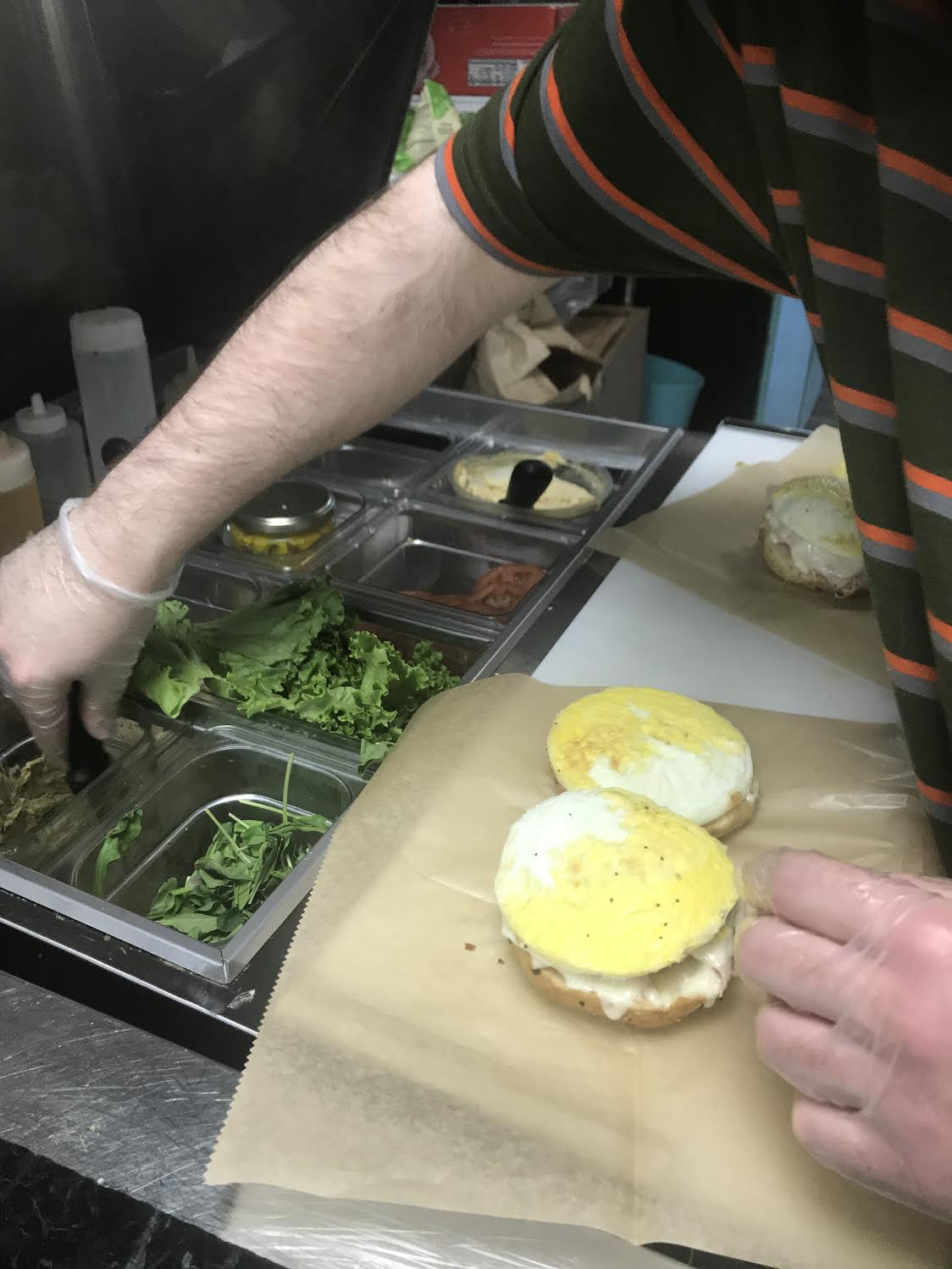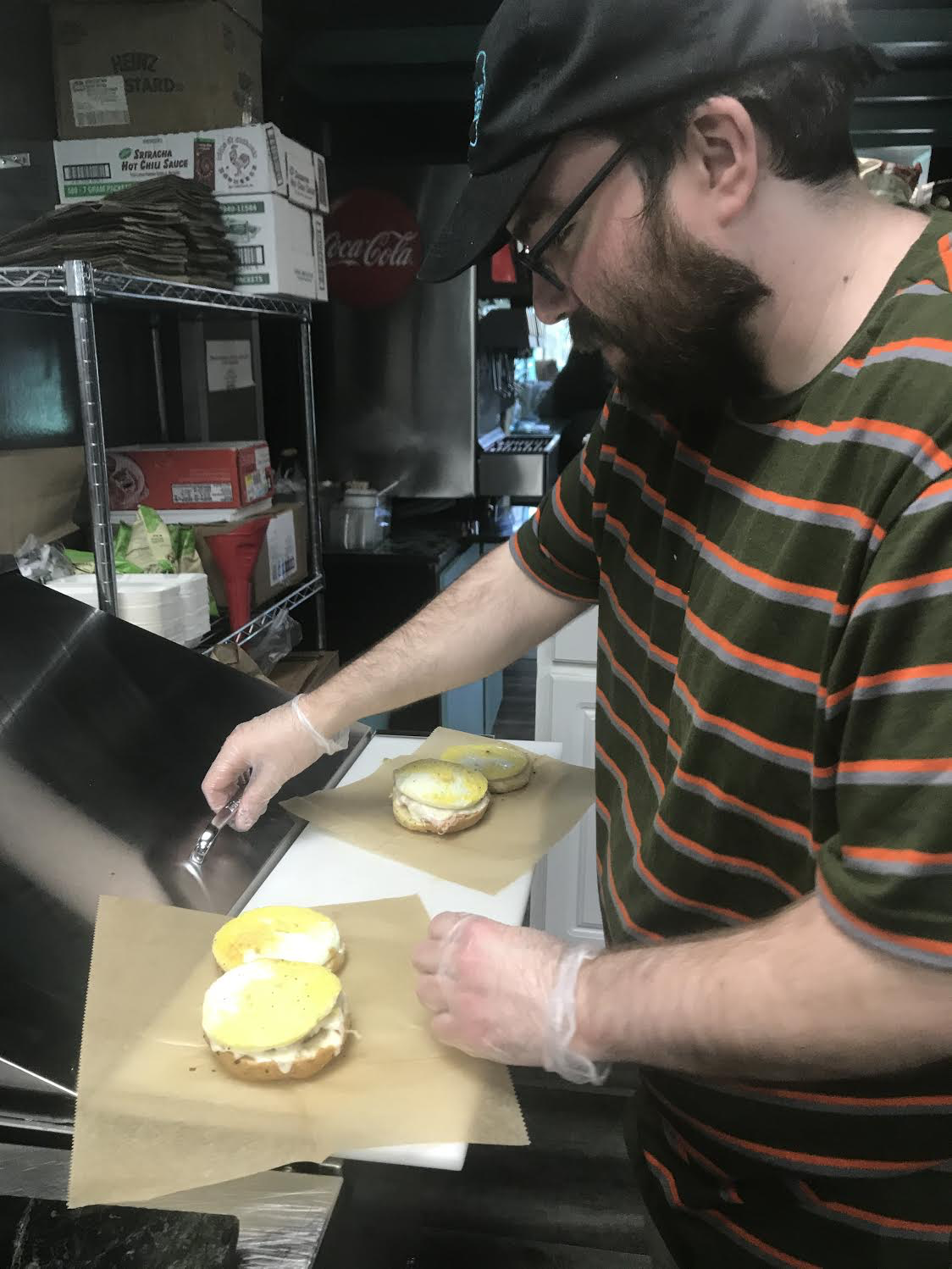 Shane arrives shortly after. Shane has a warm, open presence. There is a gentleness about him. He tends to share big takeaways and learning moments. Shane delves into the history of SteamRoller. The restaurant started as a food truck. The majority owner, Jay Snyder, wears many hats. He was once the director of the Newark-Granville Symphony Orchestra and is now running for Township Trustee. When he found this building, he decided to move his business forward by turning it into a small restaurant with the same food-truck design. Jay had big plans for the place, but he wasn't quite sure how to carry them all out. He used to go in, sit down for periods of time and "try to envision it." Then, he met Traci, who had been looking for a job and was willing to help get the place started. She would bring some common-sense to their big plans. I met Traci later in the day. She was feeling under the weather, so she only stayed briefly, but from our short interaction I could tell that she meant business and that the guys looked up to her. She was older than the others, probably in her fifties. She wore jeans and a tired smile.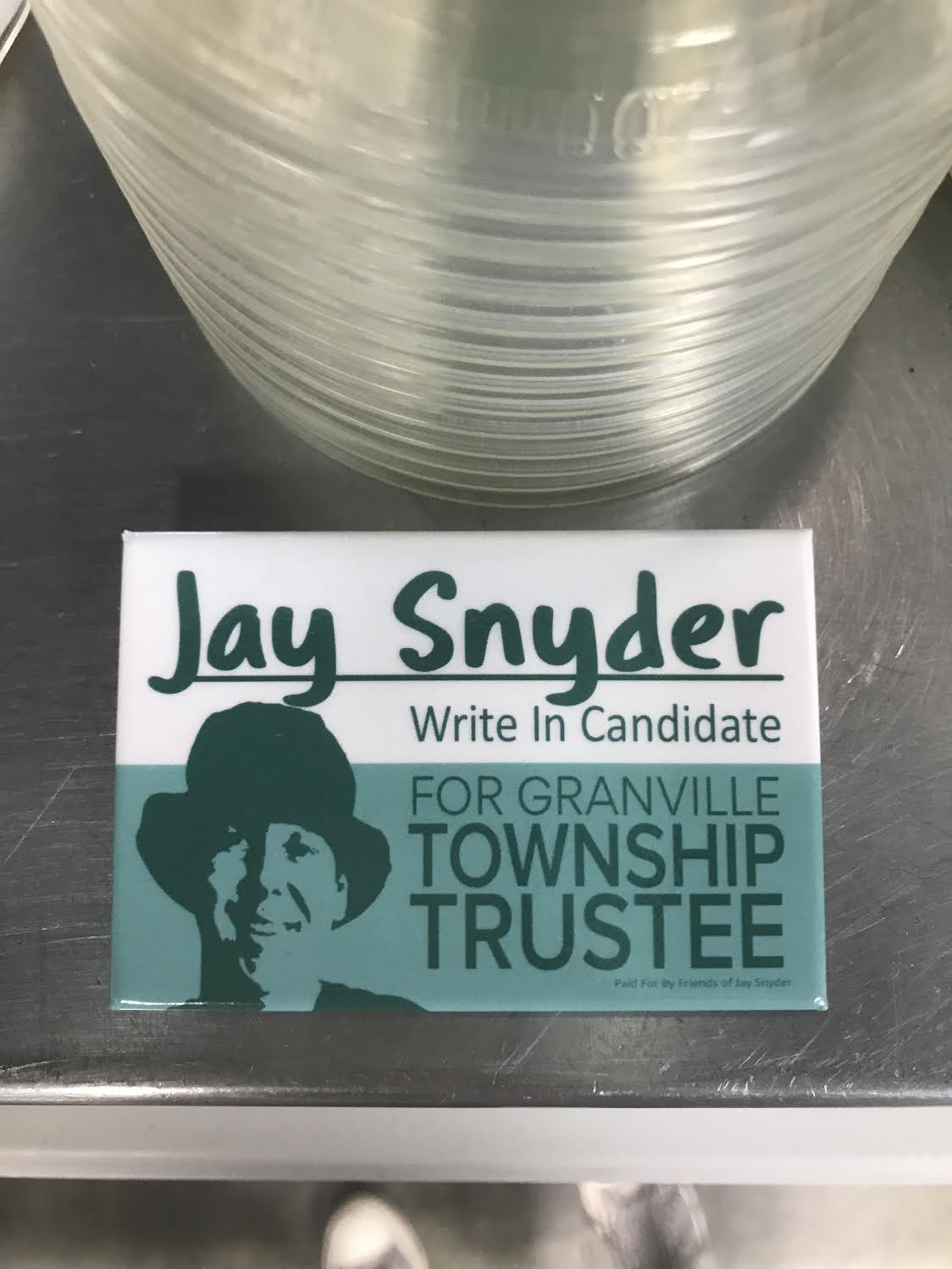 A clothesline of receipts hangs above the compressors. Travis pushes each one along, reads off the names and hands each customer their sandwich. Meanwhile, Shane starts to tell me about the Coke machine. It was easy to get installed initially--too easy. When they got it, they had no idea it needed to be cleaned. Shane questions aloud,"how is Coke a worldwide company when they have such terrible customer service?" 
There is a leak in a pipe under the sink and a bucket underneath. For most of the day, he is situated under the sink while Travis makes sandwiches. Shane's "biggest takeaway," inspired by the sink leak, is that you're always learning something new. "In high school, you should get certified to fix refrigerators." 
Shane is from Heath, ten minutes away from Granville. Leaving Ohio never seemed like an option. At Denison, Shane started as a biochemistry major to go on a medical track. His mother worked at a hospital; he thought he would too. Then, he actually spent some time at a medical center and the experience completely changed his mind. It was something about the smell of latex gloves. He decided to go with environmental studies because the program seemed cool and his friend (who is now his fiancé) was also a major. Looking up under the sink and then pausing to look back at me, he confesses that in retrospect, he would go back to college and do something different. There are so many classes he would love to take now that he would never consider in his college days. 
Travis and Shane repeatedly remind me that this is a slow day, but in my view, the place is getting busy fast. Shane is still performing maintenance of some kind under the sink. "One of my biggest takeaways," Shane expresses, is that he doesn't know how people run a business on their own. "You never know what to expect on a given day. Like, there's a regular who always eats two sandwiches with a knife and fork." 
At 12:49, the phone rings with the first delivery. It's my lucky day! I get to ride with Travis in the famous Steamroller Smart Car, est. 2014. The logo, in a Halloweeny font, kind of like inky calligraphy with a finish of spray-paint, falls across the body. The car zooms up and down Denison's hill throughout the day like a busy bee. My roommate explodes with laughter every time she sees it. Inside, the car features a Bayside Breeze Christmas tree air-freshener. Travis turns to go up the hill. It's a Denison delivery. Surprise, surprise! He says that he and Shane knew they wanted to deliver from the start because so few places in Granville offer that service.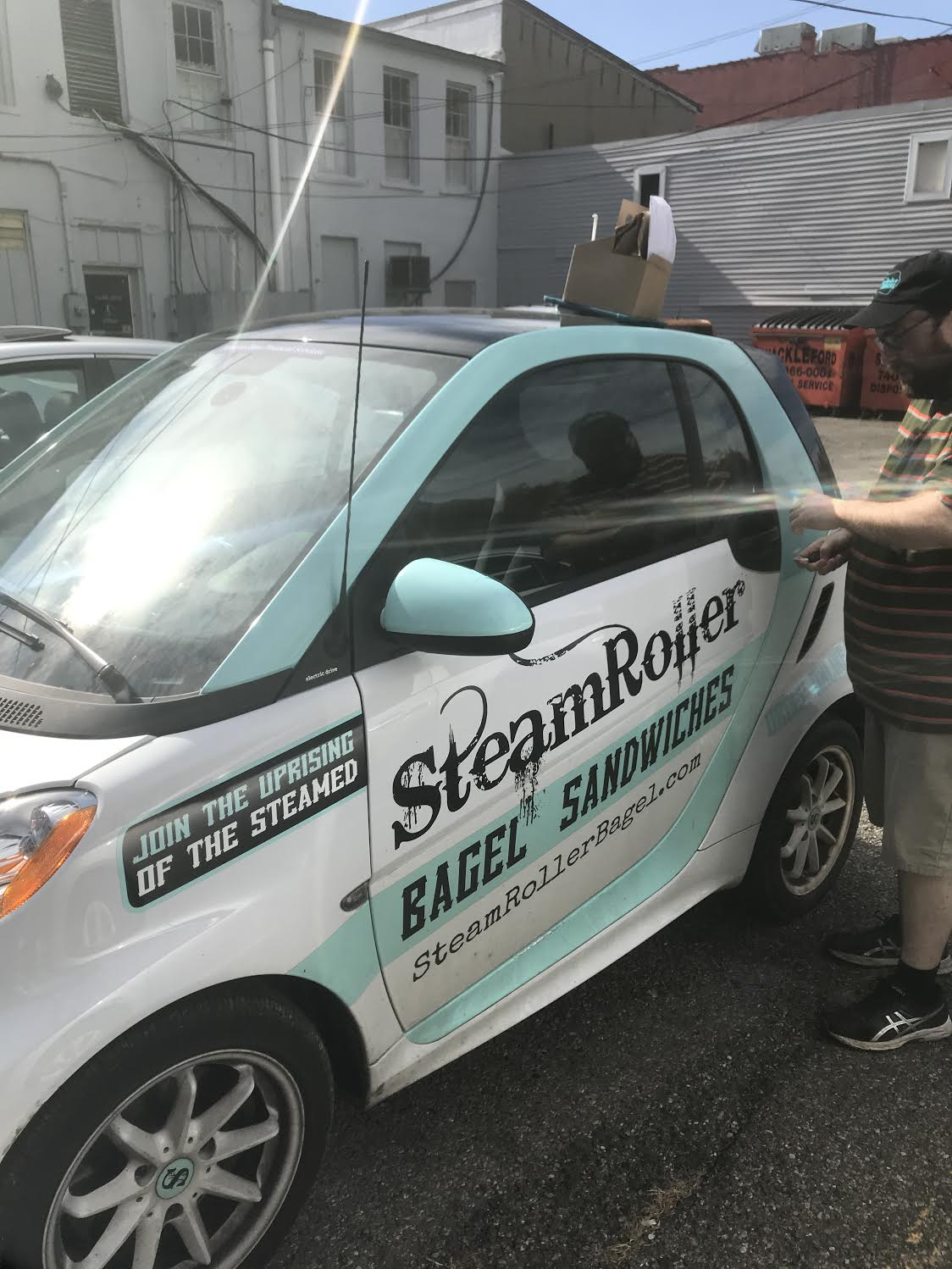 When we're back, Shane is still fixing the sink. "You guys didn't see that, right? There was a huge bubble between the pipes." He looks at me and grins. "It's the little things in life." On the topic of the little things in life, we start discussing double-yolk eggs. How great is that feeling when you crack an egg and out comes two whole yolks?! 
Soon, the FedEx guys come with a package. Shane offers them water or coffee and they politely decline. "Here are the olives," he says to Travis, who is on sandwich duty once again. Shane opens the cardboard box and holds up a massive jar of olive salad, which they use to make sandwiches based on the New Orleans muffaletta. Then, he brings me to the back section of the restaurant, where cold brew coffee is made. Steamroller started selling coffee back when the food truck was parked in the mall. Jay Snyder developed a device that could brew coffee in just 6 hours (it usually takes at least 14), and now, coffee is the fastest growing market behind the Eggstacy sandwich. 
In coffee, Shane sees the most potential for growth; the next step is bottling and canning. Shane is excited about this prospect, and understandably so. He worked at a nearby coffee shop before Steamroller and discovered the art of making coffee, judging how much acidity or sweetness it takes to make a perfect cup. To him, the caffeinated beverage also feels like home. His grandfather would pour coffee into little cream cups for Shane to drink out of when he was as young as four. 
As he resumes his unpacking of the olive boxes, with all of their styrofoam package-fillers, Shane knows what I'm thinking. "It's insanity how much trash comes with having a restaurant like this." He shakes his head at the fact. He tells me that it's hard to limit waste from packaging, but they do their best by ordering most of their materials from a green company. I wonder how often, as he unpacks olive salads and fixes leaks, Shane's mind surges with frustrations about our consumerist culture.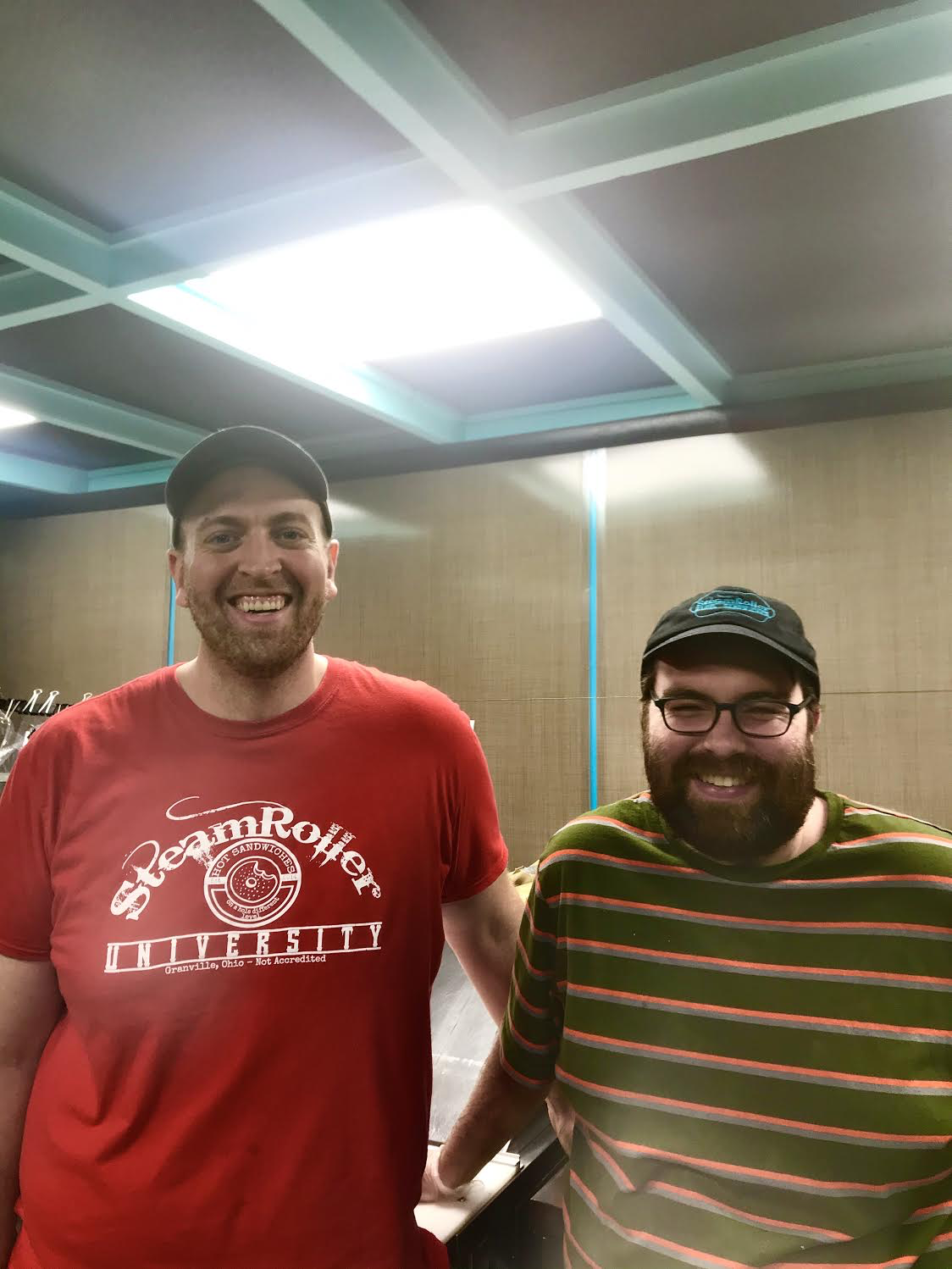 Left: Shane, right: Travis
A few days later, I return to Steamroller with my friend, Oscar. I've brought him along to try a bagel sandwich for the first time. When we arrive, Shane is behind the counter. I smile and wave; I know that guy! Oscar proceeds to stare at the menu for ten minutes. Then, he goes up to order. "Can I get a plain bagel with strawberry cream cheese?" he asks. Shane replies "sure!" and makes him the bagel, but it's clear that he's a little underwhelmed by the simple request. He offers to make Oscar a bagel sandwich to try for free. Oscar acts as if he's entertaining the idea for a moment, hmms and hums, then politely declines and walks out with his strawberry cream cheese bagel. Shane stands behind the counter with a slight smile and adjusts his hat uneasily, glancing at us as we leave.